Millenium Site Services specialise in rail vehicle paint repairs as well as new painting projects an example of one of their current contracts consists of the painting of EMR leading train franchise in the Midlands. Millenium Site Services have already completed 3 of this fleets and are currently painting Class 170 3 car units. We have a highly skilled workforce of whom can complete a 3 car unit from start to finish in as little as 10 days, this is one of the many reasons we are a leader in the painting industry.
Millenium Site Services have painted numerous rail vehicle components at our headquarters in Derby right through to full train sets over ¼ mile long on site at the client's location. Over the past 20 years we have built up an envious portfolio and are proud to be well known throughout the transport and rail industry for providing a very high quality and efficient painting service. The experience gained over the years and project success's makes Millenium Site Services a key supplier to the rail industry.
Below is a short case study on how we process of a coupled together 3 car EMR unit. Colour change from ScotRail navy blue to EMR livery scheme to Aubergine with New decals fitted with Cotech coating protection applied. 
Stage 1 – Inspection
The first process consists of a mandatory full inspection to gauge what preparation work is required and is carried out by our ICorr qualified inspectors who examine the vehicle to highlight issues/areas which include corrosion, dents, uneven surfaces, pin holes and joints etc. These areas are marked up and recorded ready for the preparation team. The whole vehicle will be prepared ready for priming by filling the required areas and sanding smooth. The primer coat is then applied providing the perfect adhesion for paint.
Stage 2 – Corrosion & Spot repairs
The vehicle and all of its associated components are manoeuvred into a set position on site or off site at a customer facility. At our Headquarters we boast 14 spray booths and an engineering section that has the ability to hold 4 single car units at any one time with a scope of being upgraded to 6 single car units. A white base coat is then applied by gravity fed professional guns with specific sizing for the particular paint specification. All the other coats applied further down the process will sit on this base coat.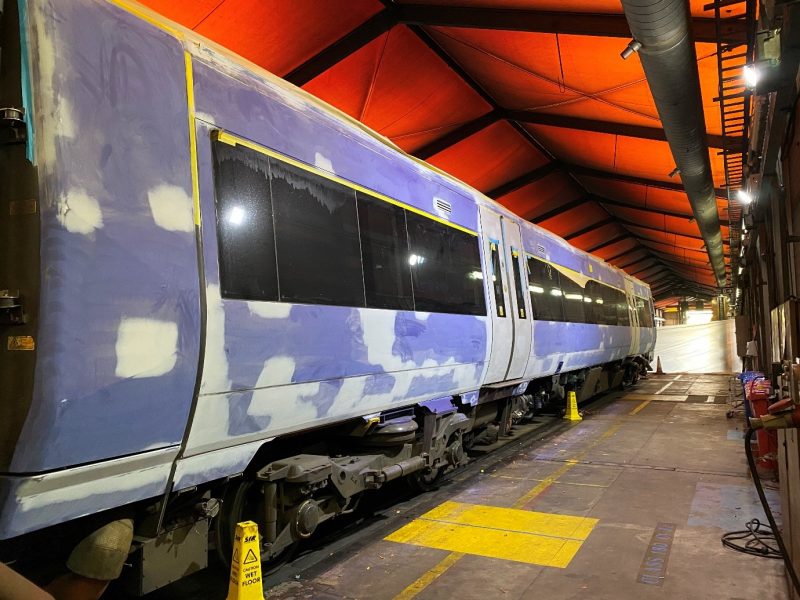 Stage 3 – Mask and apply topcoat
The next task is to then line and mask the vehicle using the approved laser cut paint masks for livery lines and apply the topcoat. The painter is looking to achieve an even coat whilst keeping the whole surface "wet" – only highly skilled painters can achieve this perfect finish. The painter further ensures that the correct amount of paint required is applied in order to achieve the depth of colour and specified DFT (dry film thickness). All these measurements are then recorded down on the CHB (Car history book) along with paint batch numbers providing full traceability.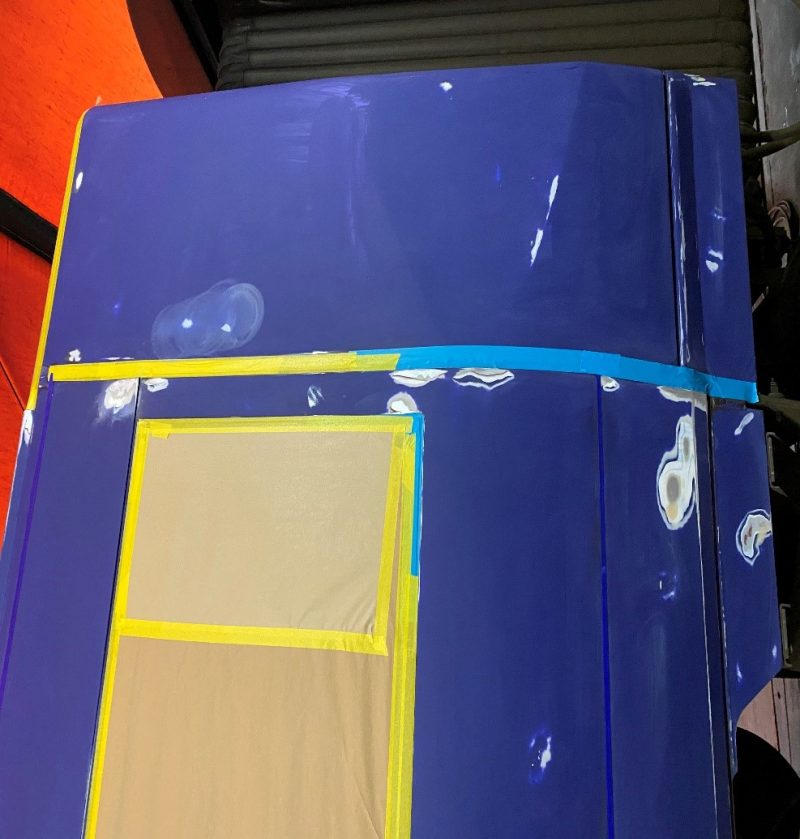 Stage 4 – Topcoat
Before removing the lining tape and masking the paint work needs to be baked. The lining tape and masking is removed leaving the Aubergine, Silver and Grey colours, these are called livery paint split lines.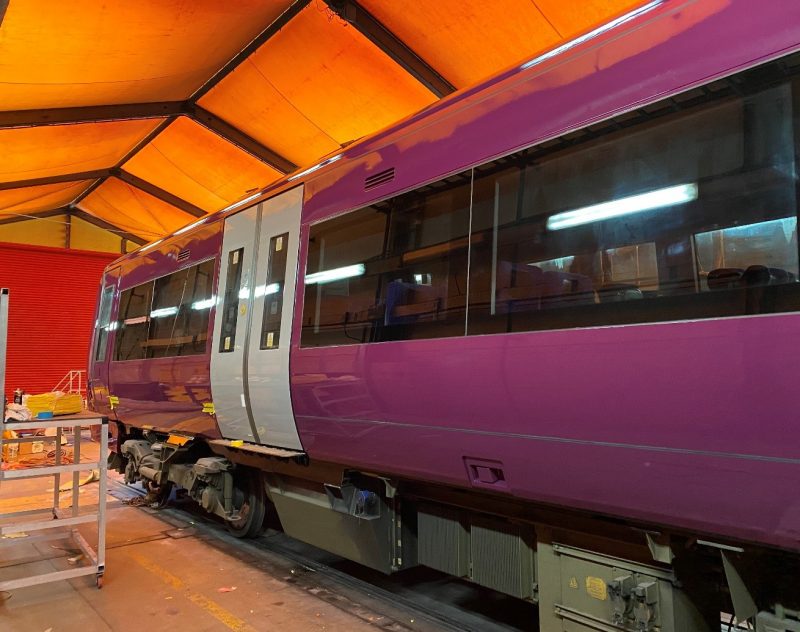 Stage 5 – Inspection and Decal
The Unit and all of its associated components are inspected by their in house ICorr inspector at the end of every stage and all details are recorded in the CHB. Once all inspections have been completed, the final stage is authorised. The new decals are then fitted to unit before the final stage of the Cotech coating protection.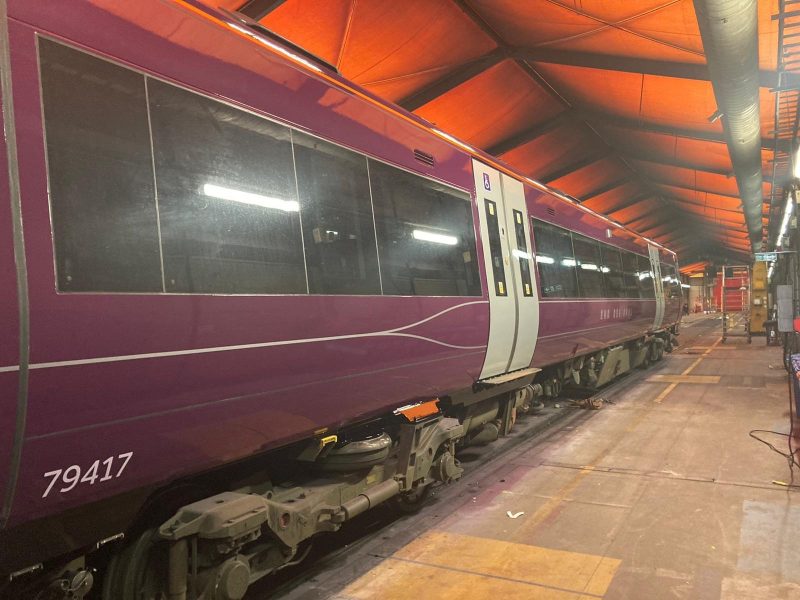 Stage 6 – Protective Cotech Coating
With the final stage being authorised, the Cotech coating protection is then applied to the whole surface protecting the paintwork underneath. This product can also be used on any hard surfaces.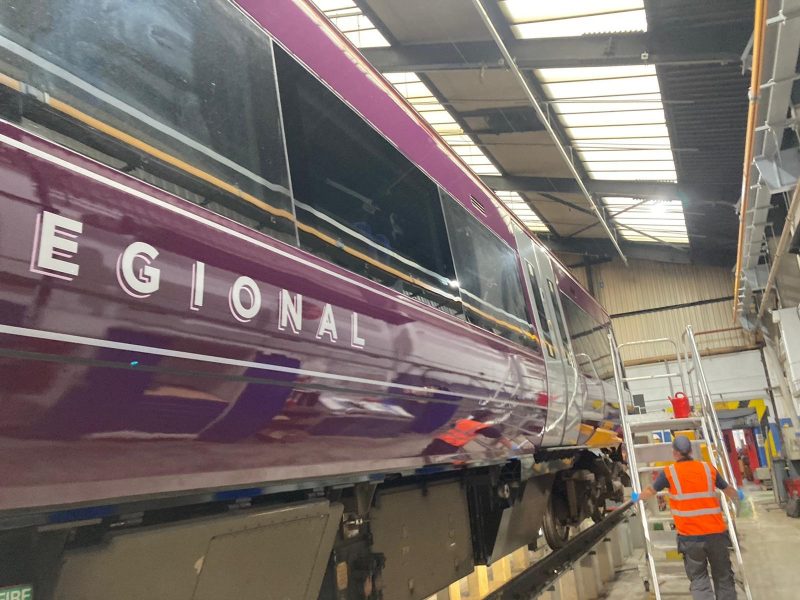 Stage 7 – Completed Unit
The CHB will be reviewed for final sign off and the cab is now ready to be fitted with all of it's components/furniture.
There have been many improvements in Millenium Site Services processes and facilities over the years which allows us to turn around complex items such as this – Single cars, Fully Coupled Units, Cabs and Crash damage vehicles in as little as 24 hours.
Millenium Site Services keeping your business on track, on time and on budget!